Customer Reviews
Write a Review
Ask a Question
01/05/2021
Louis M.

New Zealand
Soooo GOOD
Thank you for your awesome stuff! Mi esposa loves her Jefa necklace, her Reggeaton t-shirt, and Make Jefa Moves water bottle. Love to have a little more Latinx flavor in the house! Makes me miss home back in LA! Thank you!
07/27/2020
Illyana M.

United States
Good for errand runs
I like this bottle to grab and go out on daily trips. It's on the small side so not too bulky and in the way for the daily trip. The insulation is great as well. The bottle doesn't sweat.
06/23/2020
Deborah M.

United States
Great gift!
I have bought this bottle multiple times for my girl friends and they love it. It's good quality, reminds them to stay hydrated and motivates them in times when it's hard being a jefa.
05/13/2020
Melissa D.

United States
SOOOOO CUTE
i love this water bottle. You do have to be careful with it because it can scratch like any other hydro flask. So far mines hasn't peeled and I've been having it for a while now. My sister in law likes it so much I bought her one toooo. My ONLY suggestion is making the cap separate. Because it's linked to the bottle of when I drink out of it I need to make sure I'm holding it down.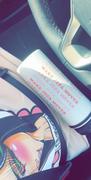 05/12/2020
Deborah M.

United States
Sturdy and motivating while working at home
Pretty sturdy water bottle. I have a habit of dropping water bottles, so having one that could deal with my clumsiness was important. I keep it on my desk now that I am working at home and it's a reminder to drink enough water, but also that I am a jefa.